As the news industry transitions from print to digital media, publishers struggle to adapt their revenue models for online platforms. Paywalls have emerged as a popular tactic in the industry, but they alienate those who are unwilling or unable to pay for subscriptions.
In recent years, we've seen some experimentation with different types of news bundles. This is not a novel concept (cable and internet providers have offered bundle packages for years), but it was uncharted territory for the news media.
Below, we've listed the three most common types we've seen so far.
Aggregators

:

 

third-party distributors that let subscribers access a massive digital library for a monthly fee, branded almost as a "Netflix for News"

Micropayments

:

 

third-party "a la carte" services that allow readers to choose individual articles rather than pay for a digital subscription, similar to the iTunes business model

Subscription Bundles

:

 

dual subscriptions that offer users a discounted rate if they purchase the two services together, similar to a cable/TV/phone package
Each of these models aspire to provide the best value for consumers. Question is, are they successful? Is bundling the future of digital news consumption or a failed experiment? To try and answer this question, we'll examine the major players in news bundling and find out what they offer for both parties.
1. Aggregators - the "Netflix of News"
Aggregators, like Apple News+, Flipboard, and Mogul News, present themselves as an extra source of revenue for fairly little work from the publishers. For the consumers, they offer multiple news subscriptions for the price of one.
The aggregation model, however, has raised several concerns from publishers, which can be summarized with these three main points.
Publisher Issue 1: Profit splits leave them with thin slices of the pie.
It has been difficult to establish a fair way to divide profits between the distributor and 100+ publishers. Apple News+, for instance, has been widely criticized for its proposed revenue split, which keeps 50% and divides the rest among the vendors based on "dwell time."
This proposal does not account for the time and effort that goes into making certain pieces. For instance, articles or other pieces that use more visual elements will be much quicker to read than say, a 1,500+ word feature. Or, taking the opposite side, more consumers may prefer to read a shorter, more visually-engaging piece instead of a long feature.
Publisher Issue 2: Brand visibility suffers.
It's difficult to stand out in a pool of hundreds of publications. News content is also placed at a disadvantage because hard news essentially consists of a list of facts. If you read enough articles about the same subject, they'll start to blend together. This makes it significantly harder for publishers to attract new subscribers from these apps.
Publisher Issue 3: Price variance devalues their work.
Unlike music or video streaming services, which typically match their competitor's prices, news bundles are wildly inconsistent, ranging anywhere from $4.99 to $12 per month. Additionally, most of these bundles are much cheaper than the price of an individual subscription. For example, Apple News+ costs $9.99 per month, $5 less than The New York Times — essentially giving users 300+ subscriptions for less than the price of one.
Inconsistent Pricing for News Aggregators and Digital Subscriptions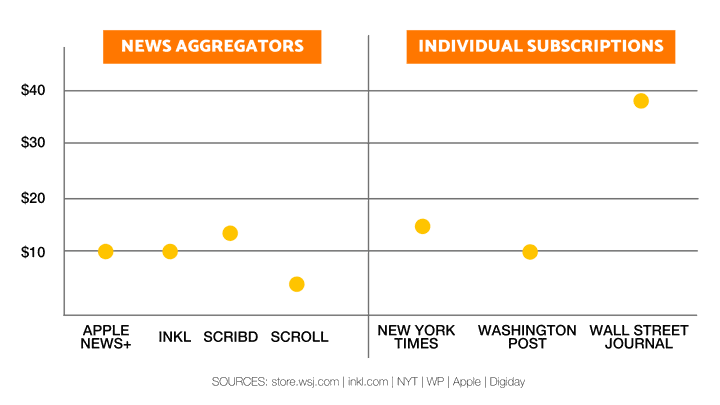 In fairness, the more vocal proponents against the concept of news bundling are also in the strongest positions to reject such offers. The most well-known brands (Washington Post, New York Times, Chicago Tribune, etc.) each have at least one million subscribers. Aggregators like Apple News+ and Mogul News — a.k.a. the new kids on the scene — have a smaller audience and would benefit greatly from the help of these industry leaders.
With publishers complaining about getting the short end of the stick, does this translate into big savings for consumers?
Based on user interest, it seems that the answer is no. Aggregated bundles struggle to attract subscribers, despite what seems like a reasonable deal. After speaking with active news consumers ourselves, we heard two major issues that stop them from signing up:
Consumer Issue 1: Free is hard to beat.
The aggregators can undercut the paywall-adopting news sites, but they can't beat the plethora of free digital outlets available. Some publishers also use a "freemium" model, which lets nonpayers read a limited number of articles each month. (We even spoke to some crafty readers who shared their own ways of bypassing this limit.)
Consumer Issue 2: Quantity isn't better than quality.
Aggregators market their limitless collection as a selling point, but its value doesn't translate as well for journalism. It makes less sense to pay for more news articles than you could possibly read, versus say, an endless selection of movies and TV shows.
"

The reality

is that 80% of current-events news is interchangeable, regardless of your source. If you're looking for today's top stories, you can pick from a limitless list of vendors and walk away with a very similar body of knowledge.

"
- Rob Howard, Quartz
These "Netflix for News" platforms usually deliver what they promise — a multitude of paid subscriptions in a discounted bundle. They just aren't an incredible value that will inspire mass adoption. Also, if aggregators want to increase the value of their digital library, they'll have to propose a revenue-distribution model that will appeal to the industry-leading publishers.
2. Micropayments - the "iTunes of News"
On the opposite end of the spectrum, we have micropayments, which offer an "a la carte" alternative to news subscriptions. The major player from this sector is a Dutch app called Blendle, that expanded to the U.S. in 2016.
With the app, users can choose specific articles from a selection of different publishers for less than $1 a piece. The price-per-article adds up quickly for avid readers, but offers a good deal for casual viewers.
Another major advantage, in Blendle's case especially, is that the app includes access to major newspapers, like the Washington Post and The New York Times. This sets it apart from aggregators like Apple News+, whose collection consists mostly of magazines/periodicals instead of hard news.
However, some opponents of the model worry that mass adoption would negatively affect people's news consumption habits:
"

Individuals who had to pay for news were significantly less likely to select stories from an opinion-challenging source than individuals who did not have to pay for news

.

"
- New Media
The study's findings were inconclusive, but they highlighted a social trend we've seen in our own market research: A willingness to read articles from outlets with an opposing political bias. One of our own interviewees admitted that this was often a frustrating experience, but he felt it was important to be aware of the multiple perspectives covering a story.
Would he be willing to pay 20-cents for that content? Maybe not.
In 2014, news publishers seemed optimistic about Blendle's potential, which was evident in the €3 million total investments they gave to the company. However, five years later, Blendle's co-founder Alexander Klöpping admits that the company has yet to turn a profit.
"

Quarters per article are not going to make the difference

.

"
- Alexander Klopping, Co-Founder of Blendle
Ironically, this has prompted the company to switch to premium subscriptions, removing its pay-per-article option altogether. The model demands too high of a customer retention rate for it to profit from its incredibly low price point.
3. Subscription Bundles - the "Cable/Internet/Phone Bundles of News"
In an attempt to strike a balance between consumer affordability and publisher profitability, some publishers are forming partnerships with other online memberships, packing both their services in a discounted bundle. 
These dual memberships work best when the partnered services overlap loosely but don't directly compete with each other. For example, The New York Times now offers a discounted membership through Scribd, an online library of e-books, audiobooks, and magazines, with 1 million subscribers.
This two-in-one arrangement seems more favorable for publishers because it addresses some of the concerns that critics of aggregation cited in the first section:
Less parties need to be paid, which means there's more profit to go around.

The news brand remains front and center, since it doesn't have to compete for attention with 100+ other outlets.
Additionally, these bundles address another challenge that publishers face when attracting new subscribers: subscription fatigue — the notion that consumers will become frustrated with the growing number of streaming services they have to pay for.
Even paying news subscribers will admit that it is not their highest priority. When asked to choose to keep one subscription, 93% of consumers picked an entertainment-based service, like Netflix and Spotify, over news.
Still, the right combination of news publisher and lifestyle-service has potential to reach widespread popularity:
It exposes the publisher to a new pool of users.

It gives the collaborator an add-on that differentiates it from its competitors.
We bet you know where this is going . . . not so simple in practice!
As part of our research, we noticed that it was very difficult to find any information about the Scribd/NYT membership on either of their websites. We found several articles from other online outlets that wrote about the partnership's announcement, but a New York Times or Scribd subscriber would not be able to stumble across this information on their own.
This sets up the flaw with the 2-in-1 bundle: Publishers have little incentive to advertise the discount over their individual subscriptions. Despite the advantages this model offers, bundling decreases their profits from each subscriber.
At best, the 2-in-1 discount could serve as a reliable side hustle, but marketing efforts would be better spent trying to sell full-priced subscriptions. 
So, are bundles a good deal?
It depends on who you ask. Consumers can still get their money's worth out of a bundle, as long as they choose one that suits their news reading habits. Below, we've summarized the advantages and disadvantages of each type, so readers can see if there's a cheaper alternative to individual news subscriptions that works best for them.
The digital news industry is still in an age of experimentation, so these alternative business models are not going to be perfect. However, if the news market continues to be saturated with free sources, publications using paywalls will have to find other ways to justify their monetary value and find alternative revenue streams to attract those who are unwilling or unable to afford the current rates.
We'll continue to write about the state of the news industry, past, present, and future. Subscribe below to have them delivered right to your inbox!