IV. Seven News Wellness Tips
From everything we've read, studied, and learned so far it's clear that despite feeling stressed because of reading the news, we recognize that we do need to read the news. In fact, being a less active reader of news can even cause more stress.
So then how do we balance the two and create our own news wellness? We asked journalists, mental health experts, and even our own team members at Below the Fold and found various habits that are worth exploring. Keep in mind that your own ideal news wellness will come from trying various practices and seeing what works for you.
With that, let's explore seven tips that came from these various conversations.
Tip 1: Find your ideal news medium.
There are more ways to consume news today than ever before. This is a good thing, as it allows us to understand the medium most-suited to our own well-being. For example, some people are triggered by visuals, so TV broadcasts could be more harmful than beneficial as a medium for consuming news information. Others are impatient listening to radio or podcasts, which can create an uneasiness; digital or print articles can be more beneficial in these cases where you can control the pace at which you consume.

There are likely many factors, so experimenting with what is ideal for you is worth investing time in and determining the mediums you'll most often turn to.
Tip 2: Batch consume by consciously unplugging.
We've already heard time and time again how constant, 24-hour news can be damaging to our mental health. While many articles recommend designating periods of time where you consciously unplug, we recommend being conscious about when you do plug in. 
For many, catching up on news as soon as you wake up is an impulse reaction. Starting your day with potentially negative headlines could negatively impact your mood for the remainder of the day. At the same time, ending your day with potentially negative news could disturb your sleep. Test out different times of day and commit to the ones that leave you the least stressed out after.
Our 2020 News Wellness Study found that the majority of adults consume news up to three hours a day.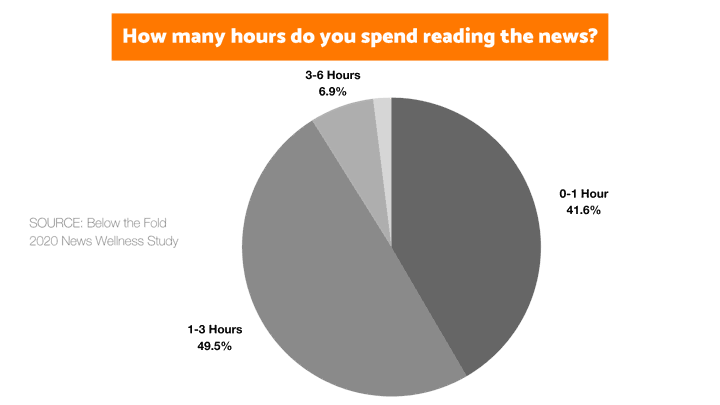 Tip 3: Set clear guidelines for social conversations.
When there's a major negative event in the news, whether the latest school shooting, a drop in the economy, or the recent coronavirus pandemic… it naturally overtakes social conversations. There's two ways to actively take control of these conversation